Automobile aluminum die casting parts USES the technology of Dissimilar Materials Joining
2020.03.26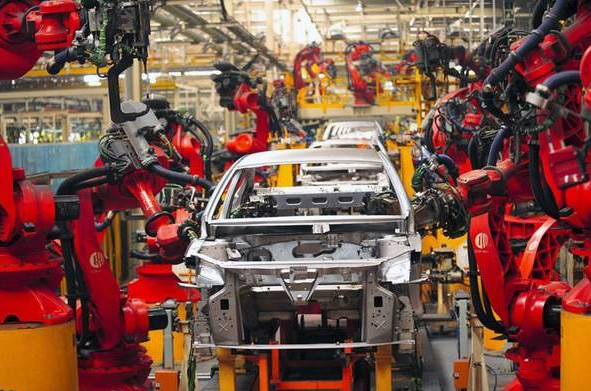 The technology of dissimilar material joint used in automobile
aluminum die casting parts
can be firmly joined together with dissimilar material without adhesive or joint.
Japan's MEC, which has developed "AMALPHA" technology that directly binds resins to metals, has increased the number of resins available for the technology from 5 to 17. The metal aspect, besides the aluminum alloy forging material, also may join the aluminum alloy die-casting material. With the addition of aluminum alloy diecasting materials, the technology is expected to be quickly extended to the automotive field where many die castings are used.
The target is "available to any location"
The metal side used to be made of aluminum, stainless steel (SUS) and copper (Cu), now also can join aluminum alloy die-casting material.
The following table lists the materials, joint conditions and joint strength tested by MEC. The previously joinable resins include PPS, PA6, PEEK, phenolic resins and epoxy resins. The increased by 12, respectively, PA6T, PA66, PA11, PA12, phthalic acid (PPA), poly (butyl glycol terephthalate (PBT), liquid crystal polymer (LCP), polycarbonate (PC) and acrylonitrile - butadiene - styrene copolymer (ABS), polypropylene (PP), EPDM (EPDM), nitrile rubber (NBR).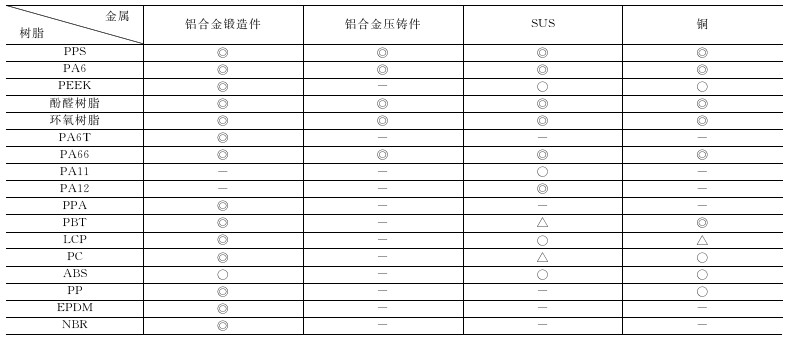 The notation in the table indicates the condition and strength of the joint. The joint ◎ can be joined by injection molding. In the tensile test, the joint surface does not fall off and the resin is damaged (the parent material is damaged). ○ means hot pressure welding, in the tensile test, the parent material is damaged. △ indicates that joints are made through injection molding or hot pressing, but with low bonding strength, under the strength of about 1MPa, the joint surface may fall off. "─" has not yet test. That is, resins marked as ◎ or ○ can be bonded directly to metal.
The bond between resins and metals USES the "anchoring effect" which can form physical bond. The principle is to make some tiny holes in the metal surface, pour the molten resin into them, and let the resin cool and solidify. The resin is like an anchor that hooks into the hole and can't be pulled out.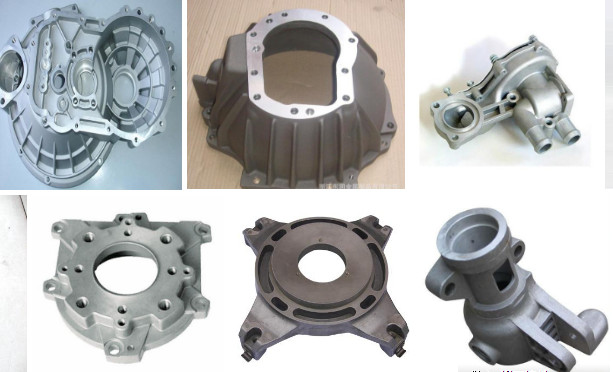 The bonding process is as follows. First, dip the metal into the degreasing fluid to remove the metal surface attached to the processing oil and rust. The second step is to submerge the metal into the etching solution (surface roughening agent) to coarsen the surface of the metal to form some tiny holes. The metal is then dipped into an acidic solution, washed away the by-product (dirt) that is left off the surface of the metal, and then washed and dried. Finally, through injection molding, resin transfer molding, hot molding and other methods to inject the molten resin into the surface of the metal opening. After the resin solidifies, it is made into a bond between the resin and the metal.
Related News